Crashing happens to Twitter, Facebook even WhatsApp. Today, Bigeye.ug one of Uganda's websites went down and showed a really embarrassing message on its website probably because they didn't restore their backup. Apparently visiting the website shows the default wordpress homepage, and the title showing Bigeye | Just Another wordpress site, and earlier on during the day a screenshot showed that they had just switched a new server.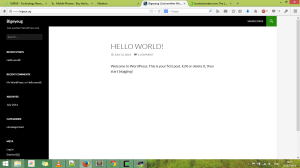 These are common web hosting mistakes that every other developer should avoid. These include using shared web hosting because it exposes you hackers and slow speeds and possibility of a lot of downtime.
We were not able to get an official statement from the website on details on why the website crushed.
Note: As of Today 8 am The website was fully restored