Recently, Facebook shared information about the potential misuse of your Facebook data by apps and websites. The social network also shared plans for how they were taking action to prevent this from happening in the future.
They released a tool that looks like a support or FAQ page by Facebook with the title "How can I tell if my info was shared with Cambridge Analytica?". This tool will help you find out whether your data was shared with Cambridge Analytica.
The tool checks whether you or your friends friends logged into an app by Cambridge Analytica called "This Is Your Digital Life." This app is the one which was responsible for leaking the data of millions of Facebook user's data.
Well, if you were lucky that neither you nor your friends had accessed the app, then you got the following response;

Those who were affected by the "flaw" get a message that is similar to the one below;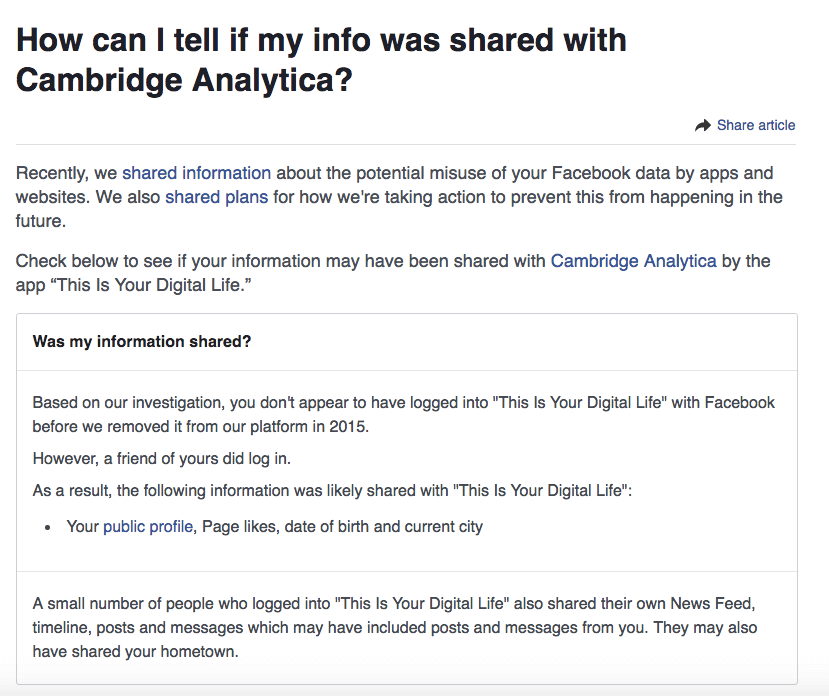 Facebook's tool which was first posted by The Next Web's Matt Navarra,  is now live through this link. You can also access the tool by searching "Cambridge" in the search box of Facebook's Help Centre.
Check below to see if your information may have been shared with Cambridge Analytica by the app "This Is Your Digital Life."