Ever since the Uganda Communication Commissions called off the registration and replacement process of new and lost sim cards in the country about 2 months ago in an attempt to curb down violence and protect the public against misuse of identity in crime related scenarios, everyone has patiently waited when the process will loosen up so they can get back their sim cards and favourite numbers back on air.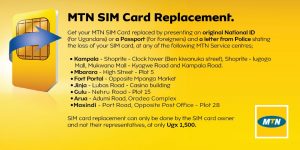 Well, the good news is MTN Uganda being one of the leading telecom companies in the country has today announced the replacement of sim cards in selected few MTN service centers within the country. This comes after the officials from NIRA and UCC have provided the company with the necessary equipments to help verify the ownership of the sim card intimes of replacement and purchase.
To get your SIM Card replaced, you need to present an original national ID for Ugandans and a Passport for foreigners accompanied by a letter from Police stating the lost of your SIM card at any of the following center.
Kampala
Shoprite-Clocktower along Ben Kiwanuka street, Shoprite-Lugogo Mall, Forest Mall, Mukwano Mall, Kyaggwe Road and Kampala Road, Opposite Bank of Uganda.
Mbarara
Plot 5, High Street.
Fort Portal
Opposite Mpanga Market
Jinja
Casino building, Lubas Road.
Gulu
Plot 15, Nehru Road.
Arua
Oradea Complex, Adumi Road
Masindi
Plot 28, Port Road, Opposite Post Office