Taxify, Europe and Africa's fastest-growing ride-sharing platform, has unveiled a new XL feature on the platform. The feature is an addition to help simplify travel within and around Kampala.
"The XL feature is one of the options that Taxify has created for those riding/travelling in big groups. We currently have a standard category that accommodates a maximum of four people and a boda category that can carry one. The XL category will give people the option of travelling in groups of up to 6." said Shivachi Muleji, Regional Manager East Africa.
Drivers of the XL category vehicles have to go through the same training as drivers of the
standard category. They are also required to have a driving permit and National ID. The vehicles must be manufactured from 2000 onwards and have a third party insurance sticker covering 6 people.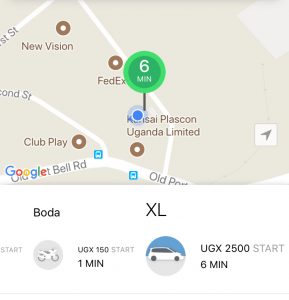 "We will maintain the same level of service and driver quality to ensure that our customers feel safe and enjoy their experience while using Taxify, " added Shivachi.
Happy drivers offer a great experience for riders, therefore Taxify believes in treating its drivers with respect, allowing them to earn more than what they receive on any other platform, and providing a range of features that help them work in the way that suits them best. Taxify XL will launch at a 10% discount with fares at 2,500 UGX Base fare, 150 UGX per Minute, 850 UGX per KM and 6000 UGX Minimum Fare. Taxify will compensate the drivers with bonuses to compensate for the discounted price. Taxify takes a commission of 15%.
"The XL feature will help those who want to travel as a group or family without spending a lot of money," concluded Shivachi.
This is a Press Release from Taxify Uganda