TECNO under TRANSSION HOLDINGS, launched the first 24MP clear selfie camera smartphone – TECNO CAMON X Pro in Africa. TECNO also teamed up with world's premier internet company Google, to launch a range of smartphones on Android™ Oreo™ System (Go edition) at its 2018 Global Spring launch which took place at the prestigious Eko Hotel and suite, Victoria Island Lagos.
Andy YAN, Vice President of TRANSSION HOLIDINGS reiterated the brands innovative culture from its formative years till date. He dissected the challenges of emerging markets, their realities and TECNO's commitment to continually rollout innovative products that are very competitive and accessible to the end users. "At TECNO, we do not adopt a one-size-fits-all approach in developing our products. We take insights from our consumers' habits, preferences and needs to develop the next groundbreaking product that fits perfectly into their lifestyle and consequently displaces the competition".
"We are not strangers to the business climes in Africa and other emerging markets of the world," Stephen HA, Managing Director of TECNO Mobile, added. "in fact, our insights about these markets inform our creativity and define our competitive edge."
TECNO CAMON X Pro: 24MP Clearer Selfie with Live FACE ID
The CAMON X Pro debuts a 24MP + 16MP front and rear cameras with an increased image definition of 30% over that of the CAMON CX to ensure that images are clear and sharp. It dons a 6-inch FHD screen with industry leading 18:9 full view screen, 64GB ROM, 4GB RAM and superfast face recognition technology (featured by FACE ID access).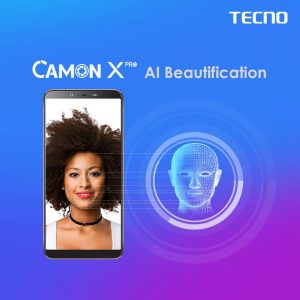 With a dual ISP image processor, the device can process actions a lot faster as both processors work synchronously together compared to the previous generations of the CAMON. Dark state and noise reduction on the CAMON X has been upgraded by 20% with the memory color function so as to ensure natural color reduction while balancing the color so it can be more pleasant for users to capture incredibly stunning pictures. With portrait background bokeh, the background virtualization function of both CAMON X and X Pro produce strikingly beautiful selfies with little interference from the background.
"You cannot say you have built a next generation smartphone if the device dons a regular camera regardless of its stellar design and features. Smartphone photography is the newest trend and several startup businesses depend on the proficiency of their mobile phone camera to grow their businesses. Thus, the latest CAMON duos are designed to deliver unimaginable precision and appeal to the consumer – a proposition we are proud of. " Philex MENG, CMO of TECNO Mobile said.
Nowadays, smartphones have become a major part of our lives and form part of our style. The CAMON X and CAMON X Pro debuts a new Face ID technology that can be used to unlock the phone when lighting up the screen. By grasping the face information, the Face ID has 50ms recognition rate and is more functional that the fingerprint identification feature. Also, the HiOS UI identifies components causing heating in the background and quickly cools off the phone through a series of methods such as background cleaning.
Compared with the previous generation products, both in speed and power consumption has been significantly improved by leveraging Mediatek's helio P23."Everyone expects their new smartphone to do more and better, that's why MediaTek designed the Helio P23 chipset to enable mobile phones to capture better, connect better and share more.."says Rami Osman, Director MEA for Sales and Marketing at MediaTek, a global leader of high performance and power efficient chipsets. Commenting on the collaboration with TECNO, Mr. Osman adds:"running on a chipset with 2 Ghz speed, 16 nano meter silicon, and a dedicated hardware for image signal processing will give CAMON X and X Pro longer battery life with fantastic photo and video capture experience, and that's what we do best… combining high-end features with affordability."
TECNO F Series: Built For Speed by Google Android™ Oreo™ System
At the launch, TECNO Mobile also unveiled a new smartphone series called the F Series. This TECNO's mid-range smartphones comes with impressive processing memory and commendable cameras. The TECNO F series dons full display IPS Touchscreen, 2MP front cameras for F1 and F2, and 5MP front cameras for POP1 (F3). All of them are with wide degree Selfie Panorama which will enable users rotate the device from side-to-side in order to take stunning wide-angle selfies.
TECNO F series are powered by Android™ Oreo™ (Go Edition) which is optimized to offer consumers a number of benefits including a smooth and fast experience tailored to devices with 1GB of RAM or less, new and reimagined Google apps for entry-level smartphones including GoogleTM Go, YouTube Go, and the Google Assistant for Android (Go edition) and an enhanced data efficiency.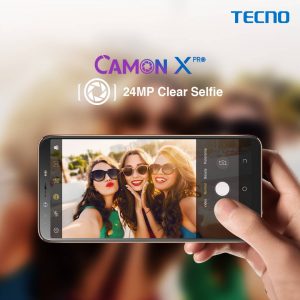 Sagar Kamdar, Director, Product Management, Android, said: "Android Oreo (Go edition) is specifically optimised to bring the magic of Google and Android to smartphones with limited memory and processing power. We're excited to see TRANSSION group take the next step towards bringing computing to more people by launching Android Oreo (Go edition) phones on its brand."
"We are also delighted to announce our partnership with Google. As the mobile industry continue to evolve and consumers continue to ask for more, we are certain with our expertise and resourceful partnerships with the likes of Google, we will be able to effectively cater for the needs of mobile phone consumers in emerging markets" Arif Chowdhury, Group Vice President TRANSSION concluded.
The F Series will ship in early-April to Nigeria and The CAMON X series will ship in mid-April to mobile phone markets across the world and the prices will be based on the local market rates.