Airtel Uganda has today launched Uganda's first-ever data OTT packs that will enable subscribers to enjoy undisrupted connectivity by simply subscribing once and getting both data and OTT of the same validity.
Data OTT packs combine data and OTT Tax by maintaining the same data volumes of the selected bundles and simply adding OTT Tax to them. When an Airtel Uganda customer subscribes to this Data OTT pack, they will get a data bundle combined with OTT of the same validity as the bundle pack purchased. For example; daily 15MB will be purchased at UGX450 and it will include UGX250 for the 15MB plus UGX200 for the daily OTT – both valid for 24hours.
Commenting about the new product, Airtel Uganda Managing Director Mr. V.G. Somasekhar noted that, "Gone are the days when subscribers had data but could not connect because they had not paid their OTT and vice versa. With these new packs, we are bringing convenience to our subscribers whether they prefer daily, weekly or monthly data packs."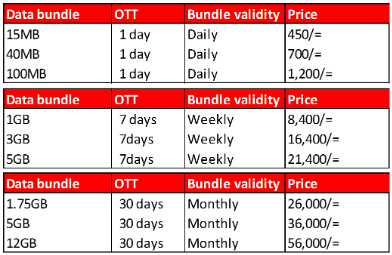 "This is the first offering of this sort in Uganda and we are proud to lead the way when it comes to providing our subscribers with affordable, convenient and innovative telecommunications solutions," he added.
To subscribe for the Data OTT packs, subscribers simply Dial *185*2# select Buy Data Bundles, select For Myself/For another number, select Data ONLY OTT Packs and finally select the pack of choice. Below are the products being offered under the Data OTT packs?
This announcement comes on the heels of a directive from the Uganda Revenue Authority, the tax body in Uganda, which changed OTT validity to 24 hours. Airtel Uganda also recently added more options to the OTT menu giving subscribers the ability to pay their taxes on a quarterly and annual basis.