Ahereza Asheri, a maize farmer from Busheny, Western Uganda, has been named by Wefarm as a Champion Farmer, having more than doubled his own output and led the way in raising the productivity of his fellow farmers on the Wefarm network.
Wefarm, which provides more than a million East African smallholders with a digital platform for share farming knowhow, launched the monthly Champion Farmer initiative to reward farmers who are individually driving forward Uganda's agricultural productivity through information sharing.
The platform sent an SMS invitation to around 25,000 Ugandan farmers inviting them to enter the challenge, of which 695 participated answering questions from farmers countrywide on the price of maize, the causes of yellowing leaves, and the best fertilizer, varieties and spacing to use.
Asheri, who has won Ugx300,000 worth of farm inputs as well as his Champion Farmer title, had already learnt first-hand of the difference other farmers' information could make in lifting productivity after he joined the Wefarm platform in February 2017.
He has since more than doubled his yields: this season harvesting five 100 kg bags of maize compared with two bags per season previously. Key has been the knowledge he has gained from other farmers on Wefarm about improving soil fertility, controlling diseases and pests, the best maize variety for his soil type, and the right spacing for maize.
In all of these areas, he has now changed his way of working, improving not only his own yields, but also helping his neighbours. "I want to thank Wefarm, because it has helped in fighting hunger in the community and in improving yields through accessing knowledge. It has helped me personally get some money to pay school fees for my diploma education, which I had paused on due to lack of funds," said Asheri.
This has been particularly critical at a time when maize prices have fallen from Sh1500 per kg to just Sh300 per kg. "The maize prices have been so low for a while that it affected my morale. I am, however, hopeful that things will go better now in terms of a consistent market and better pricing so that with higher yields I can buy my own land and expand my farm," he said.
Indeed, the change was so significant that Asheri engaged enthusiastically with the Wefarm Champion Farmer challenge when it turned to maize farming, as the monthly theme based on trending issues and crop seasonality. By the end of the month, Asheri's contributions had brought in more new farmers and the highest levels of engagement of any of the participating maize farming contributors.
"Farmers are often the best and most relevant source of information and experience for their fellow farmers. It is for this reason that we have invested so heavily in creating a platform to facilitate cross sharing, through Wefarm and the Champion Farmer initiative," said Kenny Ewan, CEO Wefarm.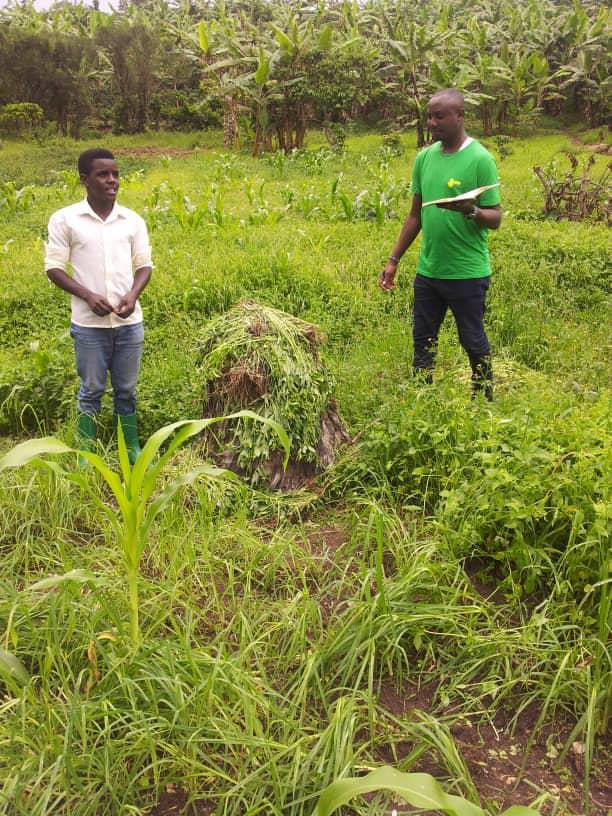 Wefarm awarded Asheri the inputs of his choice, which were maize fertilizers urea, Di-ammonium phosphate fertilizer and NPK, all which contain elements such as nitrogen, phosphorous and potassium that are essential in plant nutrition.
"Transforming output across our staple crop with farming knowhow is actually a national contribution when our crops are plummeting on agricultural and market challenges, which is why we have moved to recognize farmers such as Asheri, who are emerging as game changers," said Kenny.
His win was the second in the Wefarm competition, with Tom Baguma from Kyenjojo district named as the first Champion Farmer. Wefarm is now running the monthly competitions throughout the year with the aim of repositioning the earnings of farmers throughout Uganda.
The Champion Farmer competition is a month long challenge that takes part in three levels: ASK ME challenge, ASK ME + TIPS, and ASK ME + INVITE challenge spread across each week.
To participate in the competition, an individual first needs to be a member on the Wefarm platform joined by sending the text "Join Uganda" to the short code 6333. Then, members willing to participate in the competition can send the text "ASK ME about <Value Chain Broadcasted>" such as maize for instance, to the same short code. This, will trigger other farmers to ask the competitor their most pressing questions affecting their crop. Users with the highest scores proceed on to the next levels as per each stage's guidelines.