MTN Uganda has today slashed mobile money sending fees by more than half in a new promotion aimed at giving back to their customers.
MTN Uganda Chief Executive Officer Wim Vanhelleputte said that the new offer that will run for eight weeks is in line with MTN's commitment to driving financial inclusion in Uganda while delivering easier and more affordable services to its customers.
"MTN mobile money is an easy to use mobile money transfer service that is fast and reliable, with transactions being completed in seconds so we are happy to be offering our customers even more reason to use the service as we celebrate their continued patronage," Vanhelleputte said at the launch.
Vanhelleputte said that MTN has over the years given back to the Ugandan communities and to her loyal customers and continues to do so with Joy. "We have built the largest and most robust network and continue to invest significantly to always delight our customers with great, affordable, efficient, safe and convenient offers."
"MTN Uganda is passionate about enabling greater connection between people. By giving back to our customers through this half price promotion, we will be enabling people to do more in their relationships by further providing the wide and crucial financial services at affordable rates," Vanhelleputte explained.
MTN Mobile Money, the first and largest mobile money service in Uganda has been at the forefront of financial inclusion in Uganda since it was first launched several years ago.
MTN mobile money currently enjoys the 'lion's' share of Mobile Money market with over 8.8 million mobile money subscribers. Since its inception, the service has seen over 30 trillion shillings in transactions.
Facts about the Promo:
The promo offer applies to only sending money from MTN to MTN numbers
To send money, customers dial *165*1#
Below is the table showing the old and new transaction fees: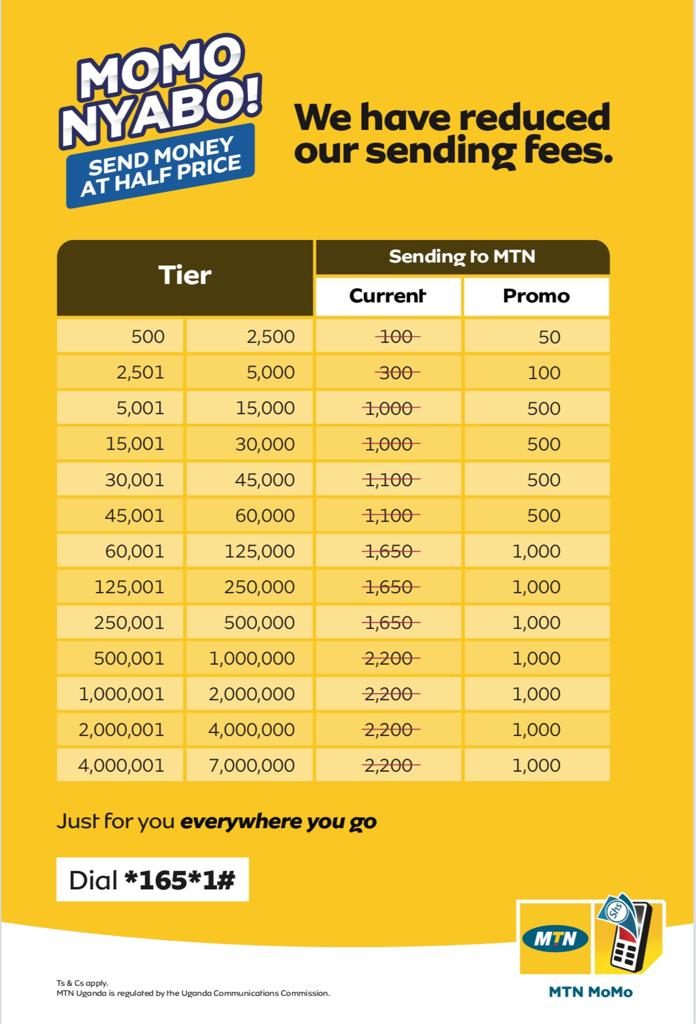 Credit: MTN Uganda