According to a report from OpenSignal, Uganda has been ranked 94th in terms of mobile video experience out of the 100 countries surveyed. New apps continue to launch on mobile first —most recently TikTok—while video has become a part of the fabric of social networks that started out distributing just text and photos: on Facebook and Instagram, now watch video on their smartphones.
Mobile is now a central part of multiscreen TV streaming services because smartphone screens are larger than ever, and everyone has a phone with them at all times to enjoy mobile video experience. Netflix has reported that 25% of total streaming is happening on mobile networks.
However, consumers often have to use streaming apps' offline functions to download programs or movies ahead of time to sidestep potential issues with the cellular connection. But having to remember to download a mobile video onto a smartphone is inconvenient for consumers because it's easy to forget to download a movie ahead of time.
Mobile video traffic is a headache for engineering teams
Wireless operators understand that mobile video is of critical importance to their business. Carrier technical teams know that video makes up the vast majority of the data traffic on their networks and telecom vendors forecast video data traffic will continue to rise.
Telecom equipment supplier Ericsson forecasts video will rise from 60% of mobile data traffic in 2018 to nearly three quarters by 2024. The technical challenges of this enormous amount of data traffic mean many operators treat video differently than other kinds of data traffic to ensure video does not overwhelm everything and cause the experience of other activities like voice calling, gaming, or even web browsing to suffer.
Ads are now playing on mobile
Full-screen mobile video ads now create vital revenues that support many otherwise free apps. The Internet Advertising Bureau (IAB) has quantified the scale of mobile video advertising: 62% of total moving ad starts are happening on mobile; similarly, 63% of total video ad revenue is from mobilephones as part of an online video ad market that grew 37% between 2017 and 2018 to reach $16.3bn. Upshot, it's not only consumers, media companies and wireless carriers that care about this experience but mobile video is also increasingly important for advertisers.
The Global rankings
Opensignal's survey was measured based on the average video experience of users on 3G and 4G networks for each operator. Their methodology involved measuring real-world video streams and uses an ITU-based approach for determining video quality. The metric calculation takes picture quality, video loading time and stall rate into account. The result was a report based on video experience on a scale of 0-100. Countries like Norway, Denmark and Austria are at the top five of the survey in terms of having the best quality of the mobile video experience scoring between 75.9 – 78.5.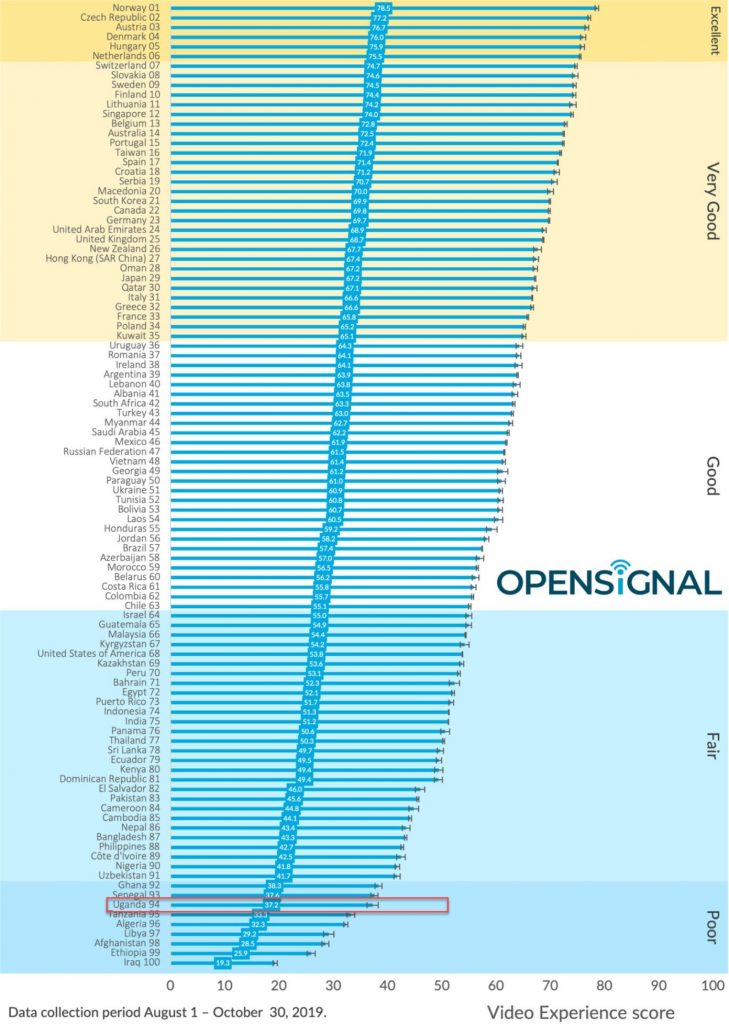 Uganda ranked at 94th position scoring 37.2% falling into the poor mobile video category according to OpenSignal. The Uganda internet market is dominated by mobile internet. The mobile internet subscription now stands at 14,360,847 up from 13,569,354 reflecting a growth of 5.8%. The total market (this includes both Over the Top OTT and web access) internet penetration now stands at 37%.
Iraq, Ethiopia, Libya were among the countries at the bottom of the list scoring as low as 19.3% in terms of mobile video experience. The highest-ranked African country is SouthAfrica, which falls into the Good category.
It should be noted that the differences in the results for Download Speed Experience and mobile video experience are often because of the technologies that wireless operators routinely deploy to manage the vast quantity of data traffic which mobile video viewing creates. In short, streaming is not treated the same by wireless operator networks as a file download test and this shows through these analytics results.
Credit: Roger Bambino from TechJaja