MTN Uganda has continuously kept her standards in performance, customer care, innovation among other fields and this keeps her winning both at home and abroad.
The company has been recognized by Rohde & Schwarz, with "Highest Network Performance Score" for its data and voice services.
The award was officially presented to the Chief Executive Officer (CEO), MTN Uganda – Mr. Win Vanhelleputte at the company's offices in Kololo, Nyonyi Gardens on Tuesday, 18 February 2020 by Shakil Ahmed, Director Africa together with Paul Mwangi, Manager Mobile Network Testing, Rohde Schwarz.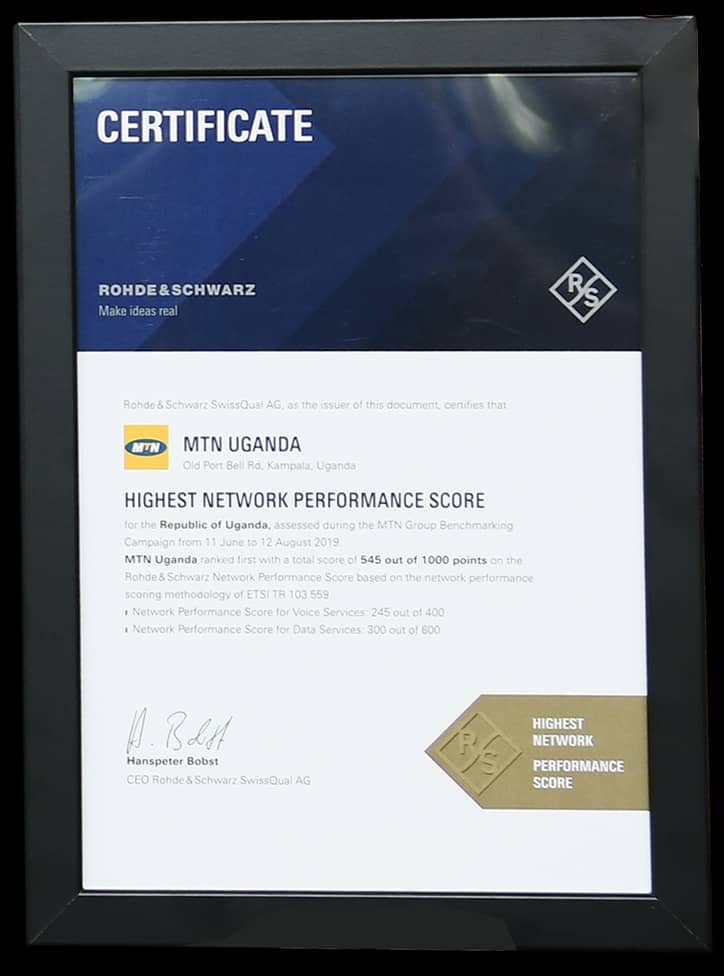 Rohde & Schwarz bestowed this award on MTN Uganda following tests conducted on ground in Uganda, during the 3rd quarter of 2019, and within the framework of a study that involved extensive tests of voice calls and internet speed evaluations across over 8500km around the country as well as static tests in hot spots.
These independently conducted network quality and performance tests were done on the networks of all mobile operators in Uganda and benchmarked against leading European mobile telephone operators using the network performance scoring methodology of European Telecommunications Standards Institute (ETSI) TR 103 559 S.
Rohde & Schwarz is a renown international organization that specializes in auditing 2G, 3G, 4G and 5G performance of mobile networks across the globe using the International Telecommunication Union (ITU)/ETSI standards and methodology.
"The award justifies MTN's commitment over the years to continuously invest in a wide and quality network.", said Mr. Vanhelleputte.
"The advantage of using this global standard of measurement (is that), it challenges us to not only be the best in Uganda but also benchmark ourselves against leading networks across the world. Our consistent investment in the network over the years is getting us ever closer to the 'best in class' global networks.", he further noted.
MTN's network had the highest aggregated voice performance score across major towns and on highways. This specifically with regard to placement and quality of calls. In addition, MTN Uganda also registered the highest aggregated data performance score in relation to quality of videos and ability to stream.
Being the market leader with more than 13 million customers, MTN Uganda has made it a strategic priority to deliver and maintain a positive experience for customers using our network.
In January 2020, MTN Uganda became the first operator in East Africa and the third in Africa to showcase the 5G network to its customers, after MTN South Africa and MTN Nigeria last year. The use case trials demonstrated the capability of 5G, giving customers a glimpse of the benefits, this future technology will deliver.