The ability to share Snapchat like disappearing stories or WhatsApp like status updates on Twitter will no longer possible after 3rd August following an announcement by the micro – blogging platform to discontinue the feature from its platform.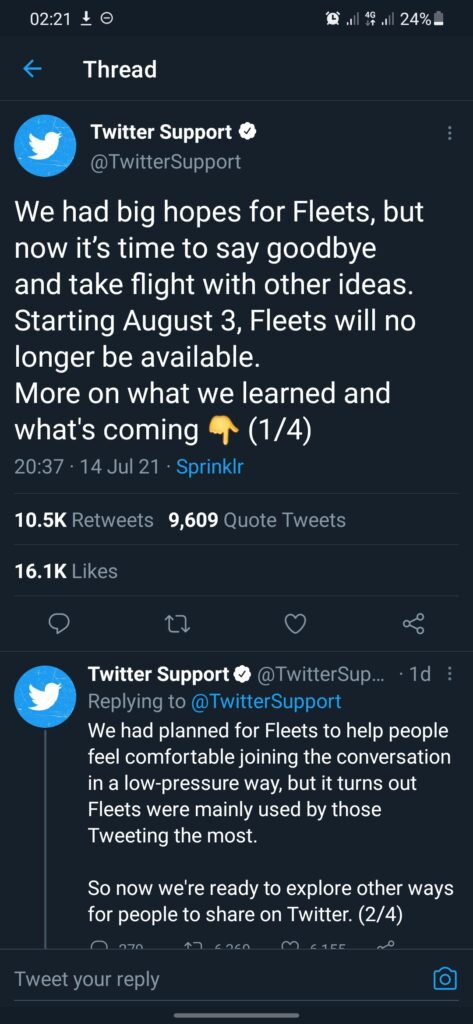 Fleets, similar to other social media platforms like WhatApp, Instagram, LinkedIn, Snapchat and Facebook allows users to share messages, both text, pictures, gifs and videos on their profiles that would later disappear after the lapse of 24 hours.
The feature was introduced on Twitter in March 2020 later than the other platforms did, all mimicking snapchat, and a year and plus later, the company has stated that "Starting August 3, Fleets will no longer be available".
In a thread, @TwitterSupport shared the justification for the discontinuation being that the feature did not achieve its intended objective. "We had planned for Fleets to help people feel comfortable joining the conversation in a low – pressure way", its tweets read, and added that it has turned out that "Fleets were used mainly by those Tweeting the most", however, it indicated that the company will be looking other ways "for people to share on Twitter".
The company has further revealed that it would be focusing on new ways to enable people to shares, with "no plans of slowing down".