As previously announced, Microsoft will be releasing the official version of Windows 11 on the 5th of October 2021. According to today's published socials posts, the Company in the Microsoft Support handle, has announced that users should be ready for the release in 4 days confirming the earlier announced release date of 5th October.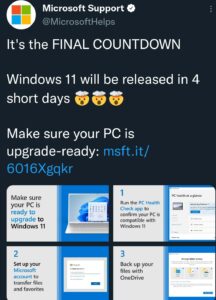 Microsoft announced on the 24th June 2021 that their next Windows would be 11 replacing Windows 10, and has since been releasing builds for the Dev, Beta and Release Preview Channels, where the upcoming features have been tested with the latest preview for the Dev Channel having dropped on the 29th September 2021. For one to get the early release of Windows 11, they have to on the insider program to be able to see the test builds.
The software development for Windows goes through the Dev Channel, Beta Channel and lastly the Release Channel before finally making it available for the general public.
Windows 11 is promising new major features including a revamped user interface. New icons, a new start menu, a rebuild settings app, a rebranded Microsoft Store among others changes. Among the new changes also includes a major upgrade to the Your Phone app, allowing users to seamless access and use their phone on their computer within the app.